Published:
October 9th 2018
An article published in Sidetracked Magazine Volume 13.
For Jon Gupta, who offers us a narrative that bares his soul, the effects of a lifetime's achievement – an expedition that might never be beaten – are where the true emotional depths are found. And darkness, too. No-one understands the turmoil of that inner conflict. Where do I go from here? Can I return to normal life? Is there anything left to keep me sustained? Revelation only comes in the form of fresh challenges and a new perspective.
Isolation
It's past midnight and tiny crystals of frost proliferate on the interior fabric of my tent, glittering in the jarring light thrown by my head torch. It's 32 ˚ below freezing and, despite my down bag, I am icy cold. I turn off the light and stare blindly into the darkness. Doubt and desperation flood me. The wind thrashes the tent's flimsy walls and I can feel snow piling up against fabric barely inches from my face. It's hard to say how strong the wind is, but experience suggests more than 100kmph. Its fury is deafening. What little hope I muster comes from the thick snow walls we laboured to build in order to gain some measure of protection. Now, these walls feel like a prison. For three long nights I pretend to sleep, coaxing myself not to worry about the situation. The cycle of unrelenting cacophony interspersed by sudden bouts of pure silence becomes the norm. I've heard such things described as a technique of torture.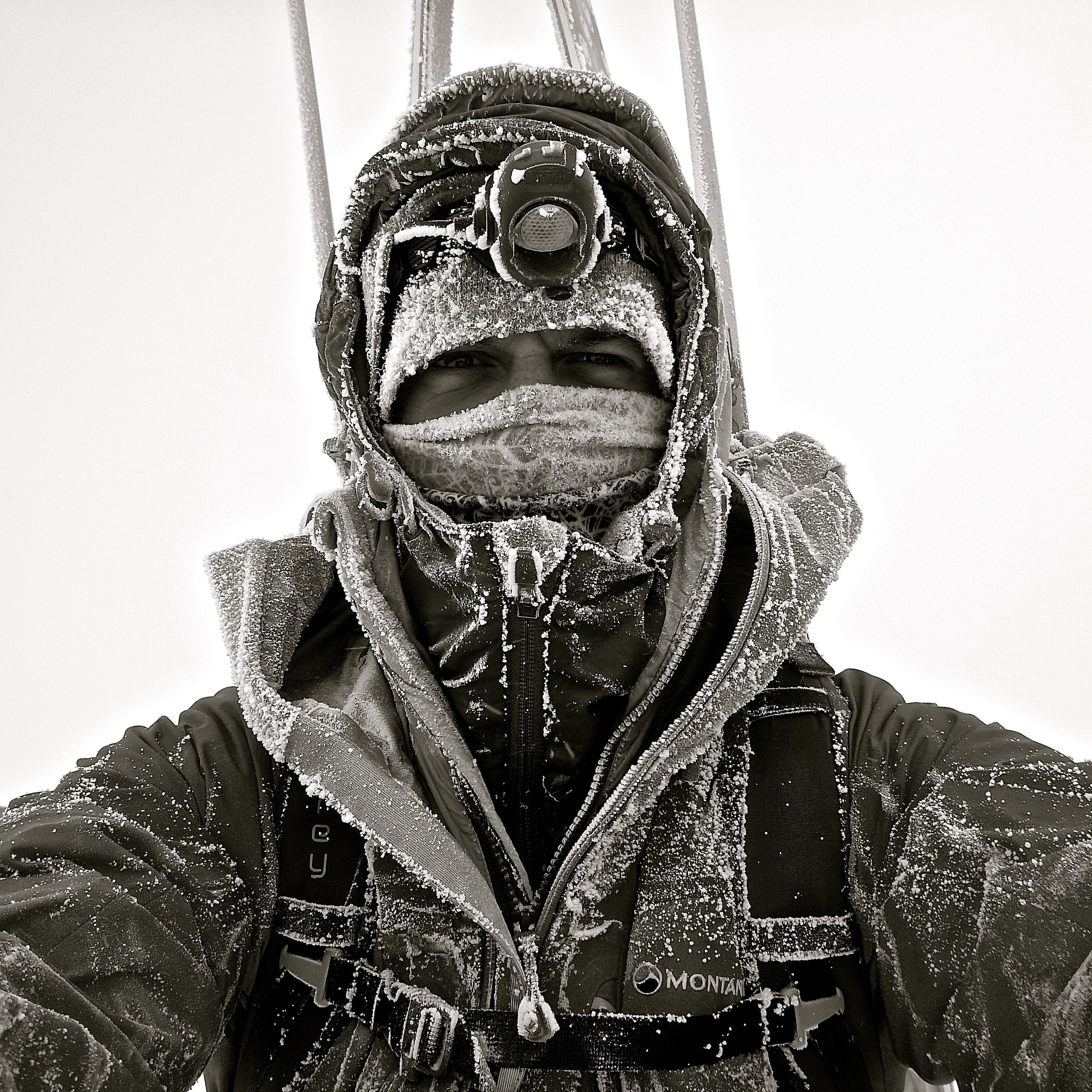 The new noise begins quietly at first, like a freight train at the far end of a long tunnel, but unmistakably the onslaught builds, gathers force, charging down the flank of the mountain. We are in its path, trapped by a prison of our own design. Even with those walls, the big blasts are so hard the tent buckles, pressing the flapping fabric to my face before it snaps back again. Over and over again this happens. Eventually, not knowing what damage has been sustained, and able to do nothing about it anyway, I sleep.
Another immense concussion hammers the tent. I start awake and stare into the dark with desperate, tired eyes. Fear chills me more completely than the cold. Can we survive the night if the tent rips apart? I have a down suit, stove, and boots, but the group shelter is at the high cache. Inevitably, I begin to question everything. What the hell am I doing here? Will we make it out alive? What is the point of all this? Then my questions run deeper. Where is the line? What risks are acceptable? What price am I willing to pay? What happened to my relationship with myself? Why am I so isolated from the rest of the world? By spending so much time in these mountains, have I now travelled so far inside myself that I'm unable to return to normality? Am I now divorced from the world beyond the massifs I know so well? I wonder if I'm running away from something, or simply doing what is necessary to elevate myself and achieve something great. In the end, one question harasses me as I lie in the tent that night: will I see the difference?
I wake to the realisation that the only way off this endless carousel of doubt and recrimination is to commit to the path ahead of me. I have to climb and complete this expedition. I have to survive. Doubt cedes to frustration; in the daylight my angst abates. I laugh with Steve again, and, finally, as quickly as it began, the mental darkness fades. The storm has passed.
Some days later, after nearly 12 continuous hours of climbing, Steve and I are just 200m below the summit of Denali, Alaska. Some background: we're attempting to pull off a rare 1,800m ascent on one of the coldest and hardest mountains on Earth in late winter. This is something very few people have ever done. We're both exhausted, dehydrated, and very much alone with absolutely no chance of rescue – but I'm in my element now. As I watch Steve climb, I am reassured. Although tired, his anxieties are focused on things beyond our control – the weather, rockfalls, capricious fate – rather than doubts about him or me. I don't have the experience you have,' he told me during our first summit night on Aconcagua, three months ago, 'but I can keep going for a really long time.' Now, looking up at the summit, knowing how serious our situation is, I ask him: 'Do you have enough in you to get up there and all the way back down?'
It's said that climbing partners can be as intimate as spouses. In some ways, perhaps even more so. Big mountains expose climbers completely. We've spent more than three months travelling and climbing together while I guide him on his world-record attempt to break the speed record for completing the Seven Summits. The Dream Ticket in my world. Steve is an exceptional athlete and mountaineer, but the logistics, decision-making, and mountain safety fall to me. This is our sixth summit of the Seven, but it is without doubt the hardest and most extreme. We've always known that everything would come down to this moment. Steve looks up at the summit and back down to where we've just come from. The final threads of sunset are barely visible on the distant horizon. Looking back up at me, he holds my gaze for a moment, and nods. A lump forms at the back of my throat and emotion floods me. It's magical. Our bond is so tight now that a simple nod tells me more than words ever could. In that moment I know we will win out. The hard work, the doubt, and all the long summit days suddenly seem very distant as we climb the final few hours to the top.
It was a pivotal moment for me. I've been shaped by the past 12 years and by thousands of decisions made in the mountains. The sum of my past actions might not determine who I am, but it does determine who I might become. I've spent a lot of time gaining experience and judgement in these extreme and high places and, finally, on Denali, it seemed like the pay-off was imminent. Looking back now, remembering those final steps onto the summit of the one and only mountain I had ever thought might not be possible, I know I graduated from a lifetime's commitment to the mountains and leading high-altitude expeditions, and achieved what I had previously thought impossible. From the summit I recall I moved quickly, turning my gaze to take in the engulfing darkness and my immediate surroundings. It was silent, cold, and perfect. I found it difficult to leave that quiet beauty, but we couldn't stay for long – we wouldn't last the night. Mechanically, reluctantly, I climbed down the face after Steve.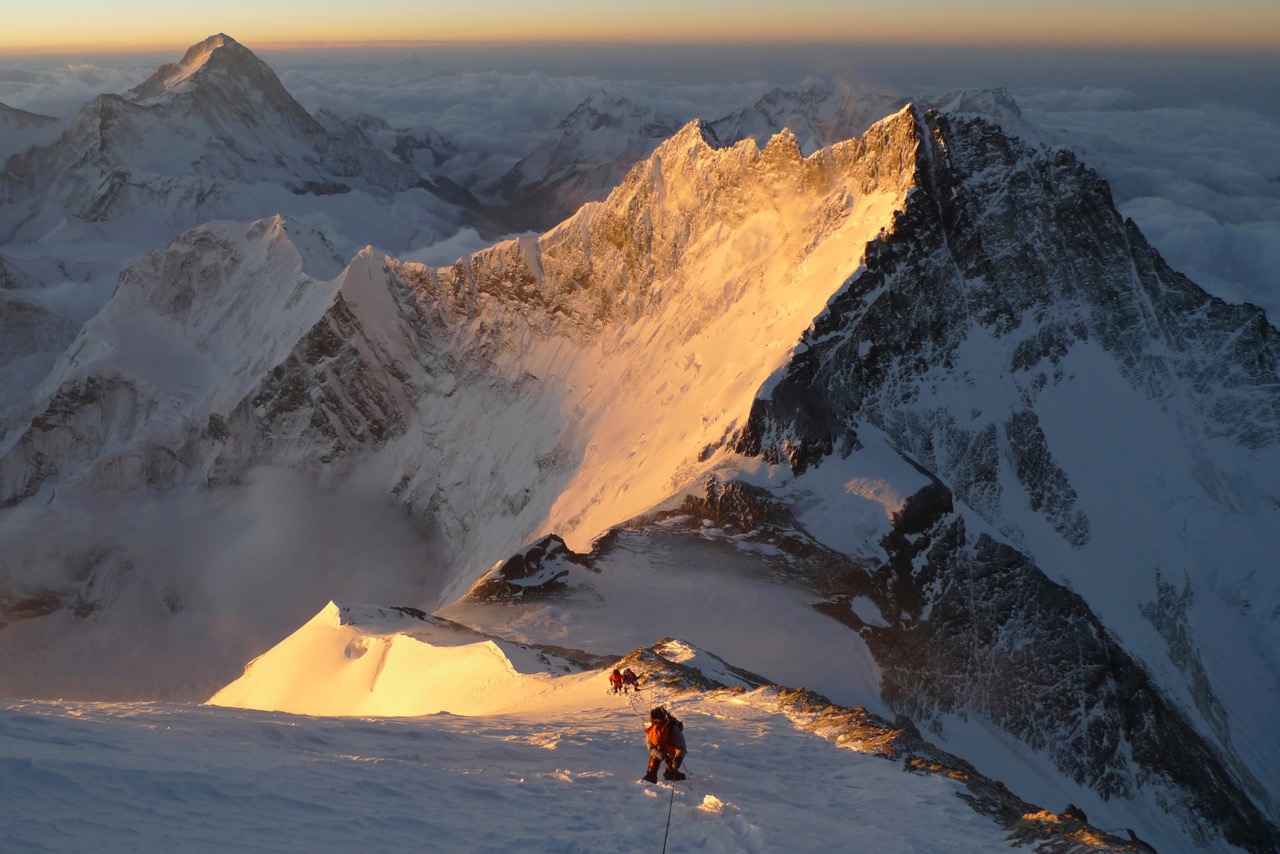 Standing on the summits of these big mountains, literally at the roof of the Earth, provides me with intense experiences that I struggle to articulate. Magical moments in a high-altitude world, gazing out across vast, seemingly endless mountain ranges. A rarefied perspective few get to experience. But profound and intense experiences tend to be unrivalled in everyday life, and this five-month high would eventually end. Being on expedition in the high mountains is now so familiar to me that it has become my real world. I have come to expect low days after an expedition, a kind of 'post-expedition blues', where my body collapses into recovery mode, but my emotional state shifts. At home, I spend days inside my own head, pottering, eating beans on toast, drinking tea, and washing and sorting my expedition kit. Decompressing. Packing the kit away is cathartic and it feels like letting go of that expedition, where for a short, intense period of time, I had been part of a world I love so completely.
Even though integrating back into society still feels abrupt and alien, I've become more accustomed to it over time. I used to find it difficult coming back from a long trip, only to find no-one understands or is interested in where you've been or what you've done. I've taught myself to accept this and to actually relish the fact that these experiences are mine to keep and are unique to me and the people I was fortunate enough to be with. But nothing quite prepared me for this time. Naively, I hadn't given it much thought. I gave this trip everything I had on every level. Psychologically, I was tested to my limit. Following success after success, ultimately reaching an incredible crescendo with the summit of Everest, I simply wasn't prepared for the immense disappointment of returning to everyday life this time. I felt like I had been thrust sharply back into a world I was no longer part of, an outsider looking in. I hated it.
I've thought a great deal about why some comedowns are deeper and last longer than others. I've cautiously concluded that the more I give of myself, and the deeper I go, the greater the rewards – but the greater the slide afterwards. To me, there are few things in life as fulfilling as physically and mentally pushing my body to its limit. In these moments I reach an exquisite, sensual world, a place where dark magic composes its crazy symphony. I crave that feeling when my muscles scream for oxygen, when I feel most alive. I know I can rest later, but I want to give that moment everything I have. To succeed and achieve. To feel. The more you give, the more you gain, the more you have to lose. The end of this expedition left a vacuum I couldn't fill. I had no-one to talk to who understood my feelings. I knew deep down I had to find my way out alone, but I knew too that something was different this time. I spent weeks lost, stumbling in a dark place, putting on a brave face when I had to meet clients and provide climbing instruction or guidance. I had begun to question how much I truly believed in some of the high-altitude guiding I had been doing. I felt… done with it all. I wondered if it were time to start a new chapter. In the short term I had a new challenge to fill the void – I would be away again in a few months and had planned nearly eight weeks based at home in Snowdonia, but even this structure didn't alleviate the darkness. As with most things in life, it's impossible to move on until emotional experiences have been processed, their value quantified. The Seven Summits world record was the ultimate gig in high-altitude guiding – a once-in-a-lifetime opportunity that was now behind me, not waiting for me ahead, spurring me onwards.
Several months later, I'm still seeking meaning in that expedition. I've taken time to let the dust settle and I'm working my way through the chaos of emotion. I'm on the up – and not by running away on some desperate expedition as a salve, but by appreciating what I've just asked of myself and taking the time to figure out what it really means to me. When I ask myself what's next, I answer: do I really want or need I run away again? It had been such a huge goal for me, so very long a journey; an expedition so expansive and all-consuming I had never thought it possible. Afterwards, instead of relief or joy, I felt lost. I lacked direction and purpose, as though one door had closed and no others had opened. Long years of non-stop expedition life had exacted their toll suddenly and brutally. I realised my body ached, and my mind was weary – it would take some time before I was myself again.
I was listening to an audiobook recently, Steve House's Beyond the Mountain, and as timely as it was, if I may be permitted, I'd like to paraphrase his words as they express what I've been feeling more keenly than I cang. These times spent in the mountains are not fairy tales. They are the truths and actions of a fallible person and my very human climbing partners. Do not mistakenly assume that these portraits exult courage, bravery, skill, or intelligence. Though these qualities bear some part, fear, inadequacy and compromise certainly feature too. Within climbing's narrow framework we seek transcendence and relentlessly pursue what remains hidden from us on flat ground – our true selves. My feelings are not universal, which is one reason why they are so difficult to express. My ice axe may be your paintbrush. One man's Everest is another man's Snowdon.