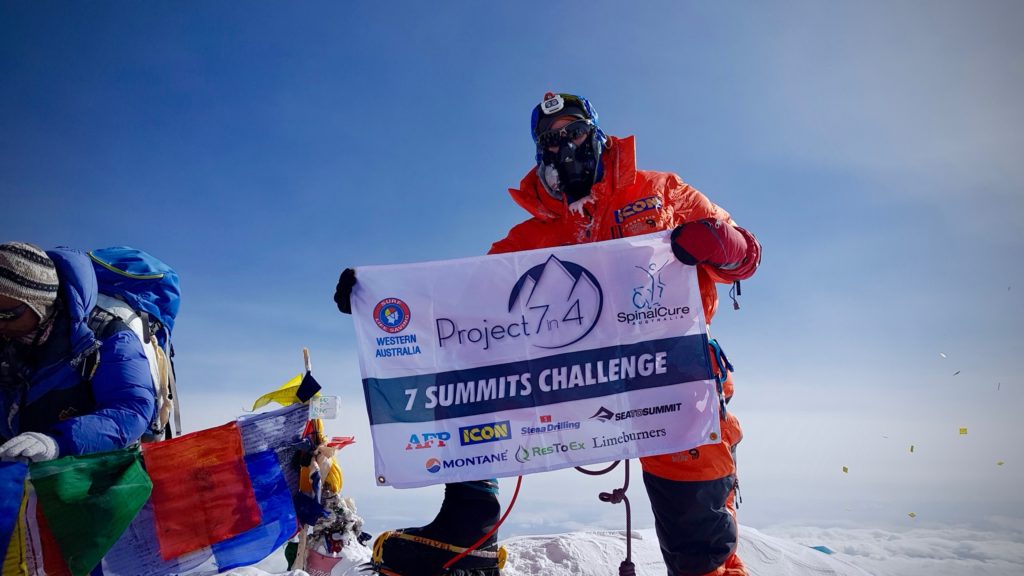 This article was written for Trek and Mountain Magazine – Published in 2018
ON the 14th May 2018, exactly 117 days 6 hours and 50 minutes after reaching the summit of Antarctica's highest mountain – Mt Vinson 4892m – Steve Plain took the final steps onto the summit of the world – Everest 8848m – and smashed the 7 Summits word speed record by a massive 9 days!
For nearly 4 months Steve and I travelled together from one mountain to the next with out a single hitch, lost bag, dodgy tummy or failed summit attempt. So, how did we successfully executed the perfect multi-mountain high altitude world record? What planning is involved in organising and delivering the logistics of a world record breaking 7 summits attempt? How hard did we train and just how much was luck?
On 13th December 2014 Steve severely broke his neck in a surf accident. Incredibly lucky to still be alive he spent 2 weeks in hospital strapped to a bed, followed by 4 months in a horrific Halo brace (google it) and a further 2 months in a neck collar. Early prognosis was he would never walk again, however he eventually made an entirely full recovery and is an incredible example for what hard work, positivity, support and superb medical treatment can do. Whilst lying in his hospital bed he set himself this seemly impossible goal of climbing the 7 summits.
Winding a few years I first met Steve in Kathmandu in October 2016 at the beginning of my 5th expedition to Ama Dablam 6856m. A tall, athletic, shy, young Australian man shook my hand and listened politely to my initial expedition briefings. As usual I had a mix of clients in the team but Steve stood out quickly. Aside from his terrible shorts and gaiters combo (which I've worked tirelessly to correct, but failed) the extent of his fitness was soon apparent during the trek. Over the course of the next few weeks it was very clear Steve was an exceptional athlete and competent mountaineer who acclimatised quickly.
In Kathmandu over a celebratory beer (or two) Steve told me of his extraordinary 7 summits plan and said he wanted me to do it with him. I was flattered and obviously interested. My initial thoughts were a tad cynical however, I'd heard this all before. Yeah sure I said, it's an incredible project but people often have really good chat but don't follow through. I call these people guna's (because they're guna do something, but never actually do), but as I found out Steve isn't one of these people – he's a do-er.
We departed Kathmandu and I didn't expect to hear much more from Steve, but true to his word it wasn't long before he touched base. The wheels began to move forward and I opened up the first of many excel spreadsheets to create an initial itinerary. Steve had done his research well, and went straight to the point – we'll have to do Denali before Everest! He wanted to set a new record that would stand the test of time not just a few years. Now, having been to Denali in my younger years I was very aware of what this would mean for us, Denali is a big cold mountain. We would also be going in at the end of winter, pre season, and when there would be absolutely no-one else around. It would be extremely cold, and generally a pretty serious undertaking. I knew instantly this was going to become the entire crux of Steves project. Was it even possible at that time of year?
Alongside the itinerary spreadsheet came the costs spreadsheet. Over a period of weeks and months emails and phone calls were flying to every corner of the world touching base with my current local agents and making new contacts in places I hadn't been before, I was in my element piecing together this epic jigsaw. Steve had worked hard to save the money personally and after a long Skype chat we had come up with some basic rules and goals for his approach. He wanted to climb the mountains in their truest form possible, where possible, which could be tricky given the nature of some of the mountains we hoped to climb. On each mountains we would go with minimal support and as self sufficient as possible – just two friends climbing big mountains together. Ultimately, this would give us total flexibility this way. It did not leave us much margin for error should I get sick or injured but it would give Steve the best possible chance to be successful in his project. It would also keep the costs down substantially too.
With the itinerary and costings coming together nicely, a third tab was opened for logistical notes: visas, permits, insurance details, local rescue and in-country travel logistics. As it turned out the only visa that we need to attain pre-departure was our Russian visa, the rest we could get on arrival. Any permit issues were handled by our in-country agents, but this often required copies of passports and short questionnaires. Over a period of around 6 months everything began falling into place. The logistics for Aconcagua, Kilimanjaro, Elbrus and Everest were very straightforward to me. I had been to these mountains many times before I new exactly how things worked and felt confident there would be no hidden surprises. I have long standing relationships with my local agencies and they understood the magnitude of what Steve was attempting and how we would require some flexibility within our plans.
It was Carstensz Pyramid and Denali that would take up the majority of my time when organising and planning this project. I touched base with a few friends who had been to Carstensz before and absorbed everything they told me – it sounded absolutely incredible albeit a little wild and unpredictable! I now had a picture of how this expedition works, so I contacted a few different local agencies to try and get a grasp on costs for logistical support. Due to the nature of the mountain being in West Papua and right next to the huge Freeport Mine there was a substantial amount of admin and hoops to jump through and trying to go independent was not really an option.
Denali was entirely different kettle of fish all together. This was going to be a full-on independent winter expedition to one of the biggest, coldest and harshest mountains in the world – this was real and serious. There would be no-one on the mountain, average day and night time temperatures would be -20/-40 and there was absolutely no rescue services should they be required, the rescue heli is not contracted in until the season starts. We discussed a number of options on how we wanted to climb Denali and Steve agreed with me that putting together a small team would be the only safe way. Rob and Chris joined our team and our permit applications for the 4 of us went in. Approved.
Time was slowly ticking along and preparations were coming together. Another spreadsheet was opened for Kit and Equipment. This was an interesting one for me logistically. I didn't require my down suit and 8000m boots until Denali and I didn't want to have to fly them around the world for 3 months before needing them. I wouldn't be going home at any point during the entire project. We needed our own tents and cookers for Aconcagua but then not again until Denali, excess luggage was potentially going to be a problem already. The vast majority would obviously be used on each trip but with some careful planning we minimised any unnecessary flying of kit. Before I left on the UK on 16th January I delivered 2 duffle bags to Chris with all our additional Denali equipment: 2 mountain tents (Trango 3s), 2 x 50m ropes, 4 snow stakes, 12 ice screws, carabiners, oodles of tat for rigging sleds, 2 cookers, pots…plus my down suit, -40 sleeping bag and my 8000m boots…the list goes on!
I was having to think short term and long term and plan for the entire 5 month trip before we departed – everything needed to be in place. Lying in bed I would walk through each trip individually in my mind and make notes on my phone of anything extra I thought of. I planned our shopping requirements and todo list for each mountain. I want everything to be perfect. I would obviously get occasional access to wifi when in-between mountains but regular daily access to emails and internet was going to be impossible. In the itinerary we had to allow time for flight delays or lost bags, time for food shopping and locating other necessary kit such as gas canisters, rented radios or Sat phones, and impotently some rest time for our bodies to recuperate and recover from the mountains and the long flights. I also factored in the time required for scheduled meetings with Park Rangers or local police officials whilst all the time being acutely aware that we needed to arrive at Denali and Everest in tip top shape, not tired and broken.
Behind all of this Steve was training hard back home in Perth, Australia. Already an exceptional athlete – having represented Australia in Triathlon – he had up'd his training to get as physically fit and strong as he possibly could. Our strategy was to go light and fast on the mountains by carrying over our acclimatisation rom one mountain to the next and eating well in between. I would take care of all the logistics and mountain safety and we would climb together sharing all the mountain admin – like two mates climbing some mountains. Ok, I'll admit it, sometimes Steve would carry more than me!
On 7th January Steve left Australia and headed to Punta Uranus in Chile. For the first part of his 7 Summits project he had joined the AAI team on their final expedition of the season. Vinson and Everest were to be the start and finish of the project, the book ends, so it was imperative for Steve to try and summit Vinson on the very last day possible before the clock began ticking. Whilst the project as a whole was a speed record attempt there was no need to rush anything at any point. In fact, between Carstensz and Elbrus we had 12 days off in Australia and summited Kosciuszko 2228m too. Steves father had organised an incredible day where nearly 100 people came together including 6 people in wheel chairs with spinal injuries. Together we all made it to the summit and helped raise funds and awareness of the two charities for which Steve was raising funds for: Spinal Cure and Surf Life Saving WA.
One our biggest challenges was arranging the flights required to connect the expedition together smoothly – a gigantic dot to dot. Trying to minimise any unnecessary flying and make it cost effective it worked out best to have 2 round the world tickets and spilt the trip into southern and northern hemisphere. Vinson, Aconcagua, Kili and Carstensz in phase 1, followed by Elbrus, Denali and Everest in phase 2. Steve arranged this through a local travel agent he had contacts too and it turned out to work really well throughout the trip. Almost every single leg we needed to amend. We had made our best guess with our flights (as per my itinerary spreadsheet) but once down off the mountain and done it made sense to move on to the next one. Being slightly head of schedule made more sense that slipping behind. The agency also contacted all our airlines and arranged for free additional luggage so we had a 46kg limit each on all flights. Having a 3rd party specialist at the end of the phone to help with our flights was a god-send and highly recommend as wifi was usually super slow or would just stop working whilst trying to surf the web.
I met up with Steve in Mendoza on 18th of January and over a good steak and bottle of Malbec (yes, we both loved Argentina!) he told me about Vinson and we chatting about the rest of the project. He had an amazing experience in Antarctica but was desperately looking forward to being in the mountains in a smaller, more self-sufficient capacity…and the biggest thing of all – going at his own speed! Steve – as I think I have allured too – is a beast (in the nicest sense of the phrase) and easily the strongest and fittest person I have ever spent time with in the mountains. On day 7 of our Aconcagua trip we departed Nido Camp 5350m (our only night sleeping higher than basecamp) at sunrise in search of the summit. Just 6 hours later we topped out in perfect conditions feeling fantastic. 4 hours later we were back in basecamp and feeling great…it was Sunday and our basecamp logistics company (Inka) were having a huge BBQ – perfect! Number 2 done, no fuss, no dramas, just two mates mountaineering efficiently.
More than a week ahead of schedule we enjoyed a few days in Mendoza before flying up to Northern Chile for 4 days to attempt to climb the second highest mountain in South America – Ojos del Salados 6893m. We hired a 4×4 and drove off into the Atacama Desert. As we hiked into the high hut at 5800m the snow began falling hard and didn't stop until 4am the following day. When the sun came out we attempted to plow through the 2ft of fresh snow but it was painfully slow, so we called it a day and descended. An amazing little side adventure.
Checking in our luggage in Mendoza, we had 4 changeovers before arriving at Kilimanjaro International Airport – I doubted very much our 4 duffels would arrive and betted Steve $100 we would never see them again! In London we had an 8 hour layover so I arranged to meet my brother and handed over some kit we used on Aconcagua but no longer required. Tired and blurry eyed we arrived in Tanzania, sorted our visas and watched in amazement as all 4 of our bags came out the conveyer belt – unbelievable, so far so good! This was to be my 22nd time on Kilimanjaro and after convincing Steve to not attempt a 1 day speed ascent in favour of a 4 day round trip purely in order to savour and enjoy the Kilimanajro experience, I had come up with a unique itinerary combining the best parts of 3 routes including a night sleeping in the crater and a double summit. The sunset from the summit of Kilimanjaro is one of the best anywhere in the world and never fails to make me feel completely alive and thankful for the time I get to spend in these amazing places. On the 3rd night we camped in the crater after an afternoon exploring the creater, glaciers and ash pit. The following morning we climbed the 150m back up to the summit for sunrise before descending all the way to Mweka Gate 1600m. Number 3 done, a wonderful African experience and a quick and unique ascent.
A simpler flight path took us to the tropical paradise of Bali. For me Carstensz was all new, and whilst I have organised and lead over 70 major high altitude expeditions I was consciously aware of the unknown and uncertainly of this trip. There was a huge amount of pressure on me to deliver this entire project – it was a once in a life time attempt for Steve requiring a huge amount of his personal time, commitment and money and I wanted it to be perfect. From Bali you take a 4 hour flight to Timika on neighbouring West Papua and from here it's an amazing 20 minute helicopter ride into Yellow Valley Basecamp. Steep, sharp limestone cliffs sore out of the vast blanket of tropical jungle everywhere, with an impressive Jurrasic Park feel to it. The climb itself is by far the most technical of all 7 of the mountains. The limestone rock was razor sharp and super grippy and shredded your hands, but an absolute joy to climb, I was in my element. Being very well acclimatised we made short time of the ascent and topped out into an atmospheric misty summit after around 2 hours 45 minutes of climbing!
Access to Carstenz has long been the biggest issue with climbing in the area. It is very close to the huge Freeport Mine (largest gold mine and the second largest copper mine in the world) and also suffers from tropical weather, and in order to access the Basecamp the helicopter requires perfect line of site to fly through a small rocky notch on the ridge. Trekking in used to best way but in recent times i've been lead to believe some tribal hostility has temporarily change this, but I hope the trek option will be safer again soon. Number 4 done, a unique and different experience on pristine rock.
With phase 1 successfully completed with 4 out of 7 summited we headed to Australia for a planned break. By now the Australian media was beginning to pick up on Steves attempt, and as far as they could see he was now over half way. Whilst technically 4 is over half way Steve was very aware that the big 3 were still to come – a winter ascent of Elbrus, a pre-season ascent of Denali and of course Everest. In Australia I took the time to unpack properly, wash and clean everything, and re-pack. Having nearly 2 weeks in one place was incredibly good for both of us to re-set before the big cold ones.
Elbrus is a brilliant mountain situated in the impressive Caucaus mountains and in early March it was in full winter swing as a ski resort. Fighting through the crowds of skiers with all our luggage and supplies for the mountain I cursed Steve for not being a skier but secretly loved the fact we were the only people mad enough to try going for the summit. Elbrus – as usual – threw all sorts of weather at us during our 3 days of acclimatisation but we loved it. Wind, snow, white out – it's what makes these mountains real and the experiences rememberable. The forecast was showing a stella day bang on plan and we couldn't believe our luck. Leaving our little hut at 3800m at 05:30am I trotted behind Steve in the early morning light desperately trying to keep up with insanely fast pace as usual. In just under 5 hours we topped out on the summit of Europe in very cold but perfect conditions. It was a beautiful day and we were the only people on the mountain, stood together feeling absolutely fantastic – another successful summit in amazing style. On the descent I reminded Steve how quick it would be on skis many times, but secretly I was just over the moon that Elbrus has gifted us such a special day, it could have easily been awful weather for days on end. I generally don't believe in luck as such, I prefer to believe that you create it through decision making, but this seemed like a bit of luck perhaps, and we took it gratefully. Number 5 done, superb conditions, great prep for Denali and a stunning summit all to ourselves.
And onto the crux of the entire project – Denali, the highest mountain in North America. Not only did this mountain single handedly required more of my time to plan than the rest put together, but it was easily going to be the hardest and coldest of the lot. On arrival we met up with Chris and Rob and spent 48 hours in Anchorage buying the last minute bits and pieces: 800ft of fixed line, snow saws, steel spades, additional cooking pots etc. The single best part of the entire Denali expedition was the food which I had outsourced to a local company called Exposure Alaska who specialise in providing logistical support to private Denali teams. I just simply can not express how good their expedition food package is. All set we transferred 2 hours to Talketna for our rangers briefing with the Denali National Park. The ranger was superb and having spent many years on the mountain he was able to offer us plenty of spot on advice from the conditions we should expect to encounter to useful top tips and general advice. Super psyched we boarded our DeHavilland Turbine Otter ski plane and headed in towards Denali. The flight is utterly specular and our faces were glued to the windows – it had been nearly 8 years since I was last here but it felt so new and exciting, my heart was racing.
We unloaded our 300+kg of kit, food and supplies and we were left standing up to our knees in snow as the small dot of our plane disappeared into the distance. This was real. The first night it plummeted to -22 and the reality of what we were about to undertake sank in quickly. Over the course of the next 10 days we broke trail, cached loads and back carried our way into 4300m/14,200ft Camp. On day 12 we spent an amazing day high on the mountain fixing the headwall with our 800ft of fixed line and left a cache where it joins the ridge. We had been dealt a rare dream ticket from the weather gods again, but I knew this had to change. Denali had a big reputation for a good reason. The forecast did change, fast, and the following morning, as predicted, a huge storm came rolling in. We re-enforced our snow/ice walls thicker and higher to protect us from the wind and tied down every guide rope on the tent. For 3 full days we didn't leave the safety of our walls, we were imprisoned on this huge cold mountain, isolated away from the world. The days slowly went by and began blurring into one. We counted our food supplies and realised we didn't have that many days left to stay put either, and probably not enough to get the high camp put in unless things changed rapidly. For the first time it looked like the whole project might come tumbling down, and there was nothing we could do about it. I looked again and again at the forecast coming through my Garmin In-reach from Marc de Keyser – an excellent paid service we had sending us forecasts each day – and my father, sending through a summary of the free internet based forecasts. A laid awake for hours and hours thinking about the everything, praying we would get a chance. A glimmer of hope appeared 2 days out on the forecast. A possible small weather window of just 24 hours seemed be developing in the middle of this big storm, an anomaly.
At 09:10am on 3rd April, Steve and I left our camp at 4300m. There was still some wind around and snow was being moved on the high mountain but the weather was slowly improving and set to improve throughout the day. This was our only chance and we had to try. Steve and I made great time up the head wall and across the amazingly exposed ridge that winds away too the high camp in just over 4 hours. We took a rest here and changed into our down suits in preparation for the upper mountain and what would inevitable end up going into the night ahead of us. Head torches in one pocket, water in another, snacks in another. We knew where everything was, for when we needed it. The upper part of Denali is superb and legendary, we crossed the steep Autobahn, through the Denali Pass and then up the ridge to the Football Field and to the base of Pig Hill. The evening light was beginning to fade away as darkness threaten to encompass us and we slowed down a lot. We were both pretty shattered, and our once an hour break had come down to every 20 minutes instead. But we drew energy from our surroundings, we could see the summit! We had stuck gold and the wind had dissipated entirely, there wasn't a cloud in the sky and we felt like we owned the world!
I looked up the final 200m of altitude realising just how much effort and time this would take us. Turning to Steve I looked him hard in the eyes and said clearly – do you have enough in you to make it up there and back down safely. Steve paused for a moment looking at the summit and back at me again, yes, I do he said. At 21:30, exactly 12 hours 20 minutes since leaving our tent nearly 2000m below us, we topped out on the highest point in North America to a last glows of a perfect sunset across the Alaskan Mountain range. With temperatures somewhere close to -50 we spent less than 30 seconds on the summit before beginning our descent, I was keen to descend as far we could in the very last remaining light. The severity of our situation was clear to both of us. Steves GPS tracker has died form the cold, and our water which was in an inside pocket had also frozen. Our breaks were short, 2 minutes maximum before we would start shivering. We ate and drank everything we had and retraced our steps as carefully and quickly as we could. Quite a few hours later we made it back to the site of high camp and I felt the pressure subside a little, from here the route much more obvious and I knew it well. Rob and Chris were slightly anxious we weren't back yet but we signalled form the ridge with our head torches as soon as we had sight of camp. A light flashing back provided an incredible boost to Steve and I. We flopped into our tents at 05:00am – an epic 20 hour round trip, we had done it. With tired legs, but feeling on top of the world we packed up and descended back to Basecamp and flew out to Talkeetna a few days later. We had spent 17 days on the mountain and we had given it absolutely everything we had. Now we just had one more to go…
Kathmandu Airport almost feels like coming home for me. This was to be my 18th Himalayan expedition and I have grown a deep love for Nepal and its people. Other than catching up with my agent to run through all the logistics and permits details for our Everest attempt we spent 5 quiet days in Kathmandu, mostly sleeping, eating and resting.
Steve had successfully climbed Lhoste 8516m in 2017 and I had been on Everest twice before so everything was very familiar to both of us. After our Puja (buddist blessing at basecamp) we headed up through the impressive Khumbu Ice Fall and onto the mountain for 3 nights. The Western Cwm is a truly phenomenal place – a hidden hanging valley surrounded by the 3 very steep faces of Everest, Lhotse and Nupste 7816m, also know as The Triple Crown.
Earlier in the trip I had mentioned 'The Triple' to Steve and we agreed that if we got Denali done successfully we would seriously consider giving it ago too. I spent some time with the legend that is Guy Cotter of Adventure Consultants, and we agreed to join forces for a Nuptse attempt as he had a client aiming for the Triple. On the 2nd of May, we set off at 02:00am from our small tents at 6850m and immediately onto the incredibly steep face of Nupste. The route is sensational, steep and never relents for a moment, constantly providing the most impressive view across to Everest and Lhoste i've ever seen. Stronger than forecast winds were moving a lot of unstable snow around, and 200m shy of the summit the conditions were just too dangerous and we made the difficult decision to turn around. Only 20 people have ever reached the true summit of Nupste and that still remains today. We were gutted but the climb and adventure had been so good we didn't mind too much.
We had used the Nupste attempt as our final acclimatisation rotation so we headed to basecamp to rest up before attempting Everest and maybe Lhotse too. We had an eye on the calendar and had done all the maths numerous times – Steve needed to summit on or before the 22nd May to set a new record.
Finally on the 11th May the weather looked set to improve substantially, and over the 12th and 13th an incredibly strong Sherpa team reached the summit. Steve and I (and a few other teams) had decided to follow up the mountain a day behind the Sherpas. We spent the afternoon preparing at the South Col 7950m and at around 22:45 on 13th May we set off into the cold high altitude world. We were both super excited and feeling great and the weather looked superb. For our summit attempt Pemba Sherpa was also joining us and the 3 of us . As the first glimmers of sun light began poking out from the east we were temporarily stuck in short cue. During the night we had occasionally caught up with who ever was in front of us, then climbed behind them for a short while waiting for a good and safe opportunity to pass them. This wasn't an ideal place to pass so we stuck inline for an additional half an hour enjoying the sunrise. We climbed on up once again free to go at our own pace and soon reached the south summit. From here the previous hidden summit ridge comes into full view, and you can see all the way back down the entire route you have come – it really is quite incredible.
We reached the summit at 07:30 on the morning of the 14th May – and Steve set a new world record for completing the 7 summits in just over 117 days, 9 days faster than the previous record holder Janusz Kochański. I took out my camera but Steve was genuinely lost for words. This was a huge deal and the realisation of what he had achieved was already beginning to set in. 4 years after lying in a hospital bed unsure if he would ever walk again he stood to the summit of Everest and accomplished his dream of breaking the world record for the completing the 7 summits.
Spending this much time together as a pair was probably the most likely chance of the project failing (other than Denali) but I see it as a testament to both Steve and my personalities and our approach to the project that we didn't once have an argument about anything. We held a huge mutual respect for one another and understood the importance of team work and personal space. We knew each others strengths and weaknesses and played these to our advantage. We worked well together. Any minor problems we had during the project were either down to miss understandings, translating and communicating with local logistics, or having to deal with frustrating airline check-ins. On the mountains, the two of us operated like clockwork. We moved fast, efficiently and most importantly we were safe and hugely successful.
Each mountain provided us with a new and unique experience. The countries and people that we met along the way weaved this mountain adventure together and are solely responsible for some of our best times and favourite memories. We looked after ourselves and we were honest with each other. Even through the toughest and coldest times we remained positive and optimistic and believed in ourselves that we could do this project. At the lowest points we stood by our mantra to 'be bothered' and we got things done, like re-building the snow walls when they collapsed in the storm. There were times when we mucked about like playing Connect 4 on the summit of Kilimanjaro for an hour and there were times where we both realised the severity of the situation and stayed entirely focused, like on the summit of Denali.
Big mountain challenges like the 7 Summits are incredibly challenging because there so many elements to consider. What Steve has managed to achieved in these few months is both phenomenally impressive and inspirational. Meticulous planning, preparation and trust saw us through the Project one mountain at a time. Through out the project we kept a detailed tally on many thing including: 250 games of Connect 4 (132 – 118 to Steve), 63 Nights spent in a tent during the project, the number of times a pee bottle was used totalled at 151, and the total amount of ascent came to a massive +/- 31,000 meters each!
The 7 summits is a very well know project world wide and once the first completion by Richard Bass in 1985 just over 400 people have completed it. However, there is some minor confusion with regards to the Australasia continental shelf. There are two list: Richard Bass's who climbed Kosiosco in Australia & Reinhold Messner who climbed Carstenz Pyramid. In order to comply with Guinness Record Books we climbed both!
For me, the best part of the whole trip was Denali because it was 100% real mountaineering and decision making. No porters, Sherpas, fixed lines or other people around. No trail to follow. And that single pivotal moment of the entire trip when I asked Steve that question 2 hours below the summit of Denali. That was that moment when he looked back at me that I knew we would complete the Project. That feeling is indescribable.